Camel catering truck features finite element analysis optimized scissors lift that minimizes stress concentrations and provides low weight with long service life.
Multiple interlocks mechanism and emergency stop systems prevent the potential damage to aircraft and personnel even the vehicle is malfunctioned at the worst scenario.
Quick, easy to read and simple to operate, the ergonomically-designed controls and gauges on the catering truck allow the operator to concentrate on production.
CCTV with surveillance cameras mounted on the platform and van body allows the operator to monitor and log all activities taking place on real time basis.
Optional fleet management system offers integrated inter-vehicles communication and data transmission, and server-client communication between vehicles and central control station.

Operating Performance (may slightly varies upon chassis applied)
Front loading 2,850m to 6,000m
Payload 4,000kg
Dimensions
Van body (exterior) 7020mm(L)×2500mm(W) ×2500mm(H), insulated, non-skid aluminum floor
Platform 1650mm(L)×2300mm(W), anti-skid aluminum floor
Shunting platform 770mm(L)×1000mm(W), hydraulically or electrically controlled
Extension length (travelable) 650mm, hydraulically or electrically controlled, with extendable handrail
Weight (may slightly varies upon chassis applied)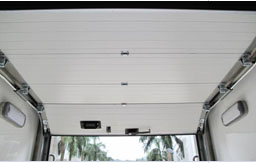 Gross weight 16,000kg
Gross vehicle weight 12,000kg
Platform capacity 1000kg
Driving speed max. 30km/hr
Electric system 24V DC
Refrigeration Unit Thermoking or Carrier, with diesel engine and external power socket
Optional Equipment
Tailgate
Canopy, electro-hydraulically controlled
Fleet manager
360°vision system
Extreme Weather Packages